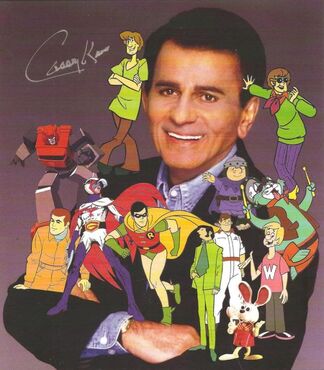 Kemal Amin "Casey" Kasem (April 27, 1932 – June 15, 2014) was an American radio DJ personality, music historian and voice actor.
Bio
Born in Detroit, Michigan to Lebanese Druze immigrant parents, Casey gained a love of the medium of music and radio in the 1940s as a child. After serving in the army and sent to Korea in the 1950s, Kasem became a radio announcer for the Armed Forces Korea Radio Network. After the war, Kasem was given roles in radio drama in the 1960s and was a DJ for stations in Ohio, New York, and California. He then launched the popular New York City radio program, Americas Top 40 in the 1970s. He also appeared on Television, doing animated voice work and making guest appearances on shows such as Sesame Street. He retired from radio hosting and voice acting in 2009.
Death
In 2007, doctors diagnosed Kasem with Parkinson's Disease, only to discover that it was actually Lewy body dementia, a disease that would later cause him to lose the ability to speak. On June 6, 2014, Kasem was admitted to a hospital and was in critical but stable condition. After his family had a long feud on whether or not to pull the plug on Kasem's life support, as his health was failing, on June 15, 2014, Kasem was taken off life support and passed on. He was 82 years old.
Personal life
Filmography
Film
TV
In Archive Footage
Notes
Casey Kasem's most well known voice role was playing Norville "Shaggy" Rogers from the Hanna-Barbera/WB cartoon franchise Scooby Doo, a role he played on and off for over 40 years from 1969 to 2009. He then retired from the role in 2010, handing it over to his successor, Matthew Lillard, the actor who played Shaggy in the Scooby Doo live-action movies.
External Links
Community content is available under
CC-BY-SA
unless otherwise noted.