m

 

(7 intermediate revisions by 2 users not shown)
Line 2:
Line 2:
 

|back color = aqua

 

|back color = aqua

 

|text color = black

 

|text color = black

 
+

|image = [[File:Egobossler_masked.jpg|260px]]

 

|name = Count Erun Egobossler

 

|name = Count Erun Egobossler

 

|race = Human

 

|race = Human

Line 7:
Line 8:
 

|hair color = White (Dyed)<br>

 

|hair color = White (Dyed)<br>

 

Brown (Natural hair color)

 

Brown (Natural hair color)

 
+

|age= 28

 

|occupation = Dictator of Europe and Commander of Galactor

 

|occupation = Dictator of Europe and Commander of Galactor

−

|status = Deceased

+

|status = Deceased

 

|relatives = Cassary Egobossler (Father)

 

|relatives = Cassary Egobossler (Father)

 

Unnamed Mother <br>

 

Unnamed Mother <br>

 

Kaseru (Half-Brother)

 

Kaseru (Half-Brother)

 
⚫
−

|Anime debut = Gatchaman Fighter}}

 
⚫
 
−
 
 
 
 
+

[[File:Count_E.jpg|thumb|Count Egobossler (unmasked)]]

 
 
 
 
 
+

==Alterations in English Adaptations==

 
+

Count Egobossler was renamed "Happy Boy" in '''"Eagle Riders"''', and is stated to be the villain Mallanox (Gel Sadora) having been transformed and upgraded into a new form. He is given his name as a form of mockery, as he liked to laugh too much.

 
 
 
 
Line 24:
Line 27:
 

==External links==

 

==External links==

 

*http://gatchonline.com/characters/egobossler.htm

 

*http://gatchonline.com/characters/egobossler.htm

 
+

[[Category:Main villains]]

 

[[Category:Gatchaman]]

 

[[Category:Gatchaman]]

 
+

[[Category:Galactor]]

 
+

[[Category:Males]]
---
Latest revision as of 04:03, 8 January 2020
Count Erun Egobossler

Characteristics

Race

Human

Gender

Male

Age

28

Hair Color

White (Dyed)
Brown (Natural hair color)

Eye Color

Hazel

Occupation

Dictator of Europe and Commander of Galactor

Personal Status

Status

Deceased

Relatives

Cassary Egobossler (Father) Unnamed Mother
Kaseru (Half-Brother)

First Appearance

Anime Debut
Count Egobossler is one of the main antagonists of Gatchaman Fighter. A cruel and ruthless dictator who rules over an unnamed part of Europe and the last Galactor Commander of the original series.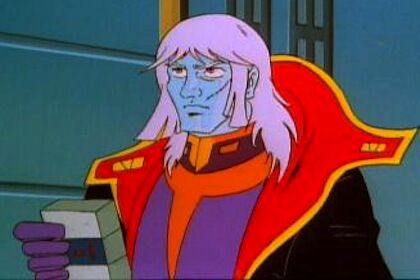 Alterations in English Adaptations
Count Egobossler was renamed "Happy Boy" in "Eagle Riders", and is stated to be the villain Mallanox (Gel Sadora) having been transformed and upgraded into a new form. He is given his name as a form of mockery, as he liked to laugh too much.
External links