Line 14:
Line 14:
 
 
 

==== Gatchaman Crowds ====

 

==== Gatchaman Crowds ====

−

The series takes place in the early summer of 2015 and is set in the city of Tachikawa, Japan. A "second metropolis" of Tokyo, Tachikawa is populated by people known as Gatchaman, who are warriors that fight in special reinforced suits that are powered by the manifestation of spiritual powers of living beings called NOTE. A council has recruited individuals that have latent powers to help fight alien criminals. In recent years, the council has appointed the Gatchaman Crew (G-Crew) to fight the mysterious entity known as MESS. However, a greater menace known as Berg Katze, an eccentric alien determined to bring Earth's destruction, emerges.

+

The series takes place in the early summer of 2015 and is set in the city of Tachikawa, Japan. A "second metropolis" of Tokyo, Tachikawa is populated by people known as Gatchaman, who are warriors that fight in special reinforced suits that are powered by the manifestation of spiritual powers of living beings called NOTE. A council has recruited individuals that have latent powers to help fight alien criminals. In recent years, the council has appointed the Gatchaman Crew (G-Crew) to fight the mysterious entity known as MESS. However, a greater menace known as Berg Katze, an eccentric alien determined to bring Earth's destruction, emerges.

 
 
 

==== Gatchaman Crowds insight ====

 

==== Gatchaman Crowds insight ====

−

A year has passed since the "Tachikawa Incident" in summer 2015. CROWDS, the system that turns the mentality of humans into physical form that Berg Katze gave to Rui Ninomiya after extracting his NOTE, has spread among the public. Prime Minister Sugayama backs the plan, but not everyone agrees with his policy. A mysterious organization attacks Sugayama's vehicle, marking the start of

+

A year has passed since the "Tachikawa Incident" in summer 2015. CROWDS, the system that turns the mentality of humans into physical form that Berg Katze gave to Rui Ninomiya after extracting his NOTE, has spread among the public. Prime Minister Sugayama backs the plan, but not everyone agrees with his policy. A mysterious organization attacks Sugayama's vehicle, marking the start of

−

a series of new conflicts.

+

a series of new conflicts.

 
 
 

==Episodes==

 

==Episodes==
---
Latest revision as of 03:20, 19 October 2017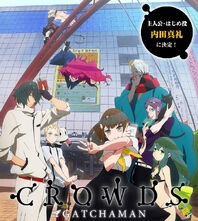 Gatchaman Crowds (ガッチャマンクラウズ Gatchaman Kurauzu?) is a 2013 television anime series that is based on the 1972 anime series Science Ninja Team Gatchaman. The 12 episode anime series is directed by Kenji Nakamura at Tatsunoko Production (the studio that also produced the original series).
The first season began airing on July 12, 2013 and concluded on Septmeber 27, 2013. The series was simulcasted by Crunchyroll.
Sentai Filmworks released the first season on DVD and Blu-ray in the U.S. on July 29, 2014.
On October 26, 2013, Tatsunoko announced that a second season has been greenlit and air on July 5, 2015.[1]
The second season, titled Gatchaman Crowds insight, started with a pilot episode on June 20, 2015 before airing from July 4, 2015 to September 26, 2015.
Plot summary
The main protagonist is a girl named Hajime Ichinose.
Gatchaman Crowds
The series takes place in the early summer of 2015 and is set in the city of Tachikawa , Japan. A "second metropolis" of Tokyo, Tachikawa is populated by people known as Gatchaman, who are warriors that fight in special reinforced suits that are powered by the manifestation of spiritual powers of living beings called NOTE . A council has recruited individuals that have latent powers to help fight alien criminals. In recent years, the council has appointed the Gatchaman Crew (G-Crew ) to fight the mysterious entity known as MESS . However, a greater menace known as Berg Katze , an eccentric alien determined to bring Earth's destruction, emerges.
Gatchaman Crowds insight
A year has passed since the "Tachikawa Incident" in summer 2015. CROWDS , the system that turns the mentality of humans into physical form that Berg Katze gave to Rui Ninomiya after extracting his NOTE, has spread among the public. Prime Minister Sugayama backs the plan, but not everyone agrees with his policy. A mysterious organization known as VAPE attacks Sugayama's vehicle, marking the start of a series of new conflicts.
Episodes
Season One
Gatchaman Crowds insight (Season Two)
0. Inbound
Notes
Gatchaman Crowds is the fifth entry in the franchise and the only one that has no connection to the previous entries, save for occasional name references and the transformation phrase "BIRD, GO!".
Another connection to the original series is voice actor Katsuji Mori portraying J.J. Robinson, Katsuji was the original voice actor of Ken the Eagle as well as other Tatsunoko characters such as Speed Racer and Tekkaman.
"Gamification" and "Collage" were edited and truncated for the broadcast release, as Tatsunoko had difficulty completing animation deadlines for the latter. The Blu-Ray release contains the full "director's cut" version of the final episode, with all sequences animated and it providing more clarification to some plot points that were left hanging. Unfortunately, Sentai Filmworks' US release does not include the full version of the finale due to the rights being unable to be negotiated.
References
Community content is available under
CC-BY-SA
unless otherwise noted.