m

m

Line 1:
Line 1:
 

{{Template:Character

 

{{Template:Character

 

|back color = Goldenrod

 

|back color = Goldenrod

−

|image = [[File:Jinpei_Civvie.jpg|thumb|250px]]

+

|image = [[File:Jinpei_Civvie.jpg|250px]]

 

|race = Human

 

|race = Human

 

|gender = Male

 

|gender = Male
---
Revision as of 22:28, 20 August 2013
Jinpei

Characteristics

Race

Human

Gender

Male

Hair Color

Brown

Personal Status

Status

Active

Relatives

Jun (Adopted Sister)
Jinpei also known as Jinpei the Swallow is the Science Ninja Teams youngest member and the reconnaissance expert. He is the 'adopted' brother of Jun.
Weapons and Arsenal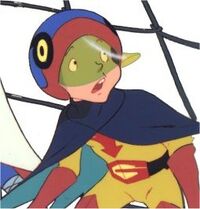 Rebound Ball: Jinpei's primary weapon in Gatchaman II. A super-ball projectile that is thrown from a shovel-like mitt attacthed to his hand.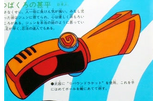 G-4
Swallow Helico: A small VTOL aircraft used for recon in areas that the New God Phoenix cannot enter.