(24 intermediate revisions by 2 users not shown)
Line 3:
Line 3:
 

|text color = white

 

|text color = white

 

|name = Joe Hibiki

 

|name = Joe Hibiki

−

|image = [[file:hibiki.PNG|240px]]|kanji = 枇々木 丈

+

|image = [[file:hibiki.PNG|240px]]|kanji = 枇々木 丈

 

|romaji = Hibiki Jō

 

|romaji = Hibiki Jō

 

|english = Hibiki Joe

 

|english = Hibiki Joe

Line 16:
Line 16:
 

|status = Active

 

|status = Active

 

|position = G-89

 

|position = G-89

−

|Voice Actor = [[wikipedia:Daisuke Namikawa|Daisuke Namikawa]]

+

|Voice Actor = [[wikipedia:Daisuke Namikawa|Daisuke Namikawa]]

−

|Anime debut = Episode 1}}

+

|Anime debut = }}

 
+

==Appearance==

 
+

[[File:111.gif|thumb|left|150px]]

 
 
 
+
 
+

==Personality ==

 
+
 
+

==Plot==

 
 
 

A Tokyo University graduate who has been on the G-Crew for 10 years. He has feelings of despair and nothingness towards the human race and thinks the time-span of the world is limiting. However, after meeting Hajime, he revives his enthusiasm and passion for work and to be serious as well. He works for the "Living Safety Department" of the town hall during the day, while wearing glasses and maintaining a clean, handsome appearance. However, at night his hair falls down, removes his glasses and smokes, giving him a laid-back look. He calls Hajime "little lady" and himself an "old man". He has some interest in Hajime, but hides it by being distant towards her. His NOTE color is red, in relation to Joe the Condor's color. This is up for debate since Sugane's NOTE is black, also one of Joe the Condor's colors.

 

A Tokyo University graduate who has been on the G-Crew for 10 years. He has feelings of despair and nothingness towards the human race and thinks the time-span of the world is limiting. However, after meeting Hajime, he revives his enthusiasm and passion for work and to be serious as well. He works for the "Living Safety Department" of the town hall during the day, while wearing glasses and maintaining a clean, handsome appearance. However, at night his hair falls down, removes his glasses and smokes, giving him a laid-back look. He calls Hajime "little lady" and himself an "old man". He has some interest in Hajime, but hides it by being distant towards her. His NOTE color is red, in relation to Joe the Condor's color. This is up for debate since Sugane's NOTE is black, also one of Joe the Condor's colors.

 
+

==History ==

 
+
 
+
 
+

==Abilities ==

 
+

Joe's Gatchaman form is a large black and orange iron Oni ''(Ogre or Demon)'' with wings, a flaming head with a red face, and hands and feet that can change into rockets for flight or guns for attacks.

 
+

<gallery>

 
+

1111.png|Joe's Gatchaman form

 
+

Joe's_NOTE.png|Joe's NOTE

 
+

</gallery>

 
+

====Attacks====

 
+
 
+

*'''Burning Rain:''' Joe's machine gun gauntlets shoot a hail of fiery bullets at the target.[[File:Burning_Rain.png|thumb|''Burning Rain'']]

 
+
 
+

*'''Flame Feather:''' A projectile attack. Joe throws small dart-like fire arrows at the target.

 
+
 
+

*'''Burning Hammer:''' A Rocket Punch attack. Joe's right hand is fired at the target.

 
+
 
+

*'''Burning Bind:''' A flying fist attached to a chain. Used to bind enemies.

 
+

*'''Phoenix Dive:''' Joe flies up into the air, engulfing his body in flames becoming a phoenix, then swoops down and slams to the ground, creating a huge explosion. This attack also has a variation that is a high speed aerial ramming attack.

 
+
 
+

==Trivia==

 
+

*Joe's Gatchaman form of an Oni and his last name of Hibiki are not to be confused with the [[w:c:kamenrider:Hitoshi Hidaka|Kamen Rider of the same name]].

 
+
 
+

*His Flame Feather attack is a possible nod to Joe the Condor's famous feather shurikens.

 
+

*His leather gloves and shuriken-style darts seem to be further nods to Joe Asakura, along with the fact that he has a friend named Alan.

 

[[Category:Characters]]

 

[[Category:Characters]]

 
+

[[Category:Gatchaman Crowds]]
---
Latest revision as of 02:05, 13 July 2015
Joe Hibiki
Kanji

枇々木 丈

Rōmaji

Hibiki Jō

English

Hibiki Joe

Characteristics

Race

Human

Gender

Male

Birthday

March 29

Age

29

Height

187 cm

Hair Color

Dark Green

Eye Color

Blue

Blood Type

B

Personal Status

Status

Active

Position

G-89

Voice Actor

Daisuke Namikawa, Ty Mahany (Sentai Filmworks dub)

First Appearance

Anime Debut
Appearance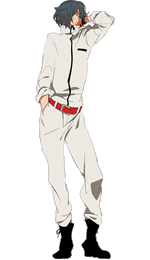 Personality 
Plot
A Tokyo University graduate who has been on the G-Crew for 10 years. He has feelings of despair and nothingness towards the human race and thinks the time-span of the world is limiting. However, after meeting Hajime, he revives his enthusiasm and passion for work and to be serious as well. He works for the "Living Safety Department" of the town hall during the day, while wearing glasses and maintaining a clean, handsome appearance. However, at night his hair falls down, removes his glasses and smokes, giving him a laid-back look. He calls Hajime "little lady" and himself an "old man". He has some interest in Hajime, but hides it by being distant towards her. His NOTE color is red, in relation to Joe the Condor's color. This is up for debate since Sugane's NOTE is black, also one of Joe the Condor's colors.
History 
Abilities 
Joe's Gatchaman form is a large black and orange iron Oni (Ogre or Demon) with wings, a flaming head with a red face, and hands and feet that can change into rockets for flight or guns for attacks.
Attacks
Flame Feather: A projectile attack. Joe throws small dart-like fire arrows at the target.
Burning Hammer: A Rocket Punch attack. Joe's right hand is fired at the target.
Burning Bind: A flying fist attached to a chain. Used to bind enemies.
Phoenix Dive: Joe flies up into the air, engulfing his body in flames becoming a phoenix, then swoops down and slams to the ground, creating a huge explosion. This attack also has a variation that is a high speed aerial ramming attack.
Trivia
His Flame Feather attack is a possible nod to Joe the Condor's famous feather shurikens.
His leather gloves and shuriken-style darts seem to be further nods to Joe Asakura, along with the fact that he has a friend named Alan.