O.D
Kanji

O・D

Rōmaji

Ō Dī

English

O.D

Characteristics

Race

Human-Alien hybrid

Gender

Male

Birthday

June 8th

Age

Over 300 years old

Height

190 cm

Hair Color

Purple

Eye Color

Red

Personal Status

Status

Deceased (Killed by Berg Katse)

Position

G-12

Voice Actor

Daisuke Hosomi

First Appearance

Anime Debut

Episode 1
Appearance
He is a pale man with purple hair. He always wears a purple top with tight jeans, he also wears black high heels.
He has red eyes with yellow lipstick and nail varnish
Personality 
He has a happy personality but when he is on his own he shows his grim side always wondering what he should say when he dies
Plot
The mood-making man of the Tachikawa "CAGE" with the catchphrase of "You're overdoing it-!!" He calls himself "a sad Gatchaman that can't transform," and because of this he does not go on normal missions. With his guardian-like existence to the team, people who might not open up their hearts to others would open it up to him. He owns a cat named Altair (Al for short).In episode 8, it is revealed that he is half human. 
History 
Not much is known about his past except that Berg Katse destroyed his planet and that he was once defeated in a fight with Berg.
Abilities 
His Gatchaman abilities are unknown at this time, but Paiman stated they cannot be used because its immense powers would be highly destructive, annihilating the Earth and ultimately resulting in the death of O.D if he used it.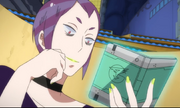 He possesses a green colored NOTE.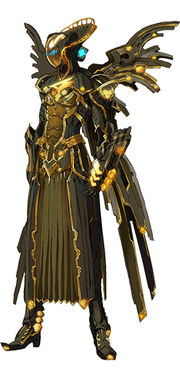 Trivia