Rui Ninomiya
Kanji

爾乃美家 累

Rōmaji

Ninomiya Rui

English

Ninomiya Rui

Characteristics

Race

Human

Gender

Male

Birthday

April 25

Age

18

Height

168 cm

Hair Color

Black

Eye Color

Light Blue

Blood Type

O

Personal Status

Status

Active

Voice Actor

Ayumu Murase

First Appearance

Anime Debut

Episode 2
Rui Ninomiya (爾乃美家 累 Ninomiya Rui) is one of Gatchaman Crowds main characters
Appearance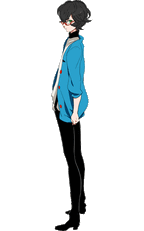 Personality 
Plot
A boy (who disguises himself as a girl most of the time/crossdresses) living on the top floor in the high-class mansion-apartment building Glorious Tower Toyosu in Tokyo's Koto ward. His trump card is his superb intellect. He is trilingual, being able to speak English, Japanese, and Chinese. After educating himself using educational websites and learning how to write code from hackers around the world, he developed the social networking services "GALAX" and "President X." He believes that the current Japan is extremely boring, and is doing many things in order to speed up and update the world's clocks. He also possesses his own NOTE, colored purple with a different logo on the cover. 
His NOTE was pulled out of him by berg Katse and in episode 8 berg takes advantage of that fact. The NOTES logo has a diamond shape instead of a bird like the gatchaman this is because bergs tail is a diamond shape
History 
Abilities 
He has a NOTE and can control something called crowds
Trivia 
Rui's crossdressing as a girl and companion named President X are references or nods to the original Berg Katse from the 1972 series.
Rui uses a Microsoft Surface to monitor GALAX when he is outside.
Community content is available under
CC-BY-SA
unless otherwise noted.